Even 70" Pipes Get Lost Over Time!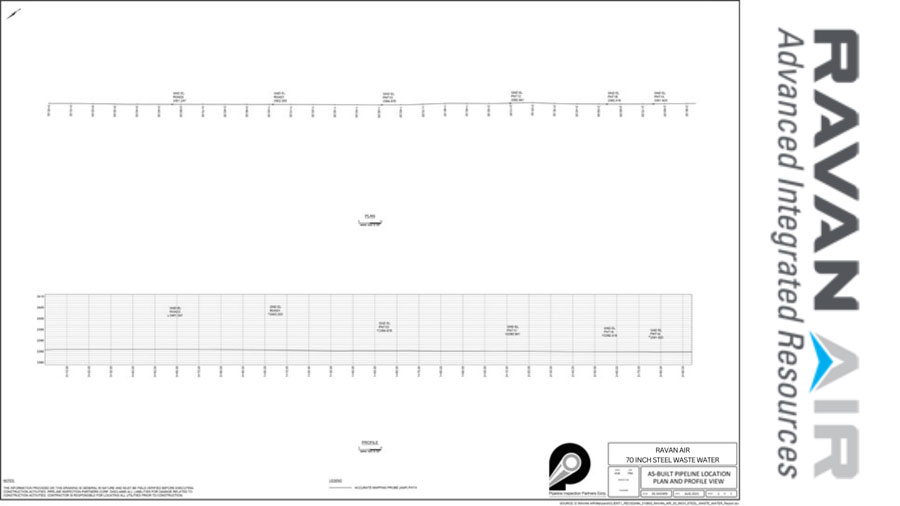 RAVAN AIR located a 70" steel storm-water pipe in Oakland, MD, that was unable to be located using traditional means underneath a state road and railroad track using the gyroscopic Accurate Mapping Probe (AMP).
RAVAN AIR technicians entered through 2 box culverts to use the gyroscopic probe to map the pipe using a range of inertial sensors. These sensors capture the change in heading, inclination and acceleration at a high frequency, resulting in a 3D profile showing the precise start- and endpoint coordinates of the previously undetectable pipe. From this, a map was created which could then be seamlessly uploaded into our GIS-platform for our client's use.
This underground mapping method prevented major traffic disruptions, saved considerable time and resources while providing the means to safely perform future projects without the possibility of crossbores or other damage.
This is a huge benefit to our customers, saving time, resources and headaches that come with shutting down pipelines.
Ravan AIR is based in Conneaut Lake, PA, and offers a full line of Underground and Aerial inspection services serving the oil and natural gas, landfill, utility and construction industries. Ravan AIR is constantly looking at innovative ways to transform manual, time consuming tasks into an automated, time saving mission. Ravan AIR was created by and for people in the natural gas industry.
Call 814-382-0368 or visit our website for inquiries or a quote today.