Laser Profiling allows us to provide our customers with a digital pipe profile using a ring of laser light that projects onto the internal pipe surface. This information is invaluable for understanding the shape and condition of the pipe either before or after rehabilitation. This includes measurements of pipe size, laterals, water levels and other features, as well as automatic analysis of pipe ovality and capacity up to 30 times per second.
Often working in conjunction with other high-end technology we utilize, the laser profiler is a stand alone snap-on tool that can be used with our transporter (Steerable Pipe Ranger) and cameras (OZII Pan Tilt & Optical Zoom Camera) for gathering survey data and generating pipeline reports about any faults or features located inside the pipeline.
Our technicians are factory trained and certified by CUES to perform Laser Profiling services.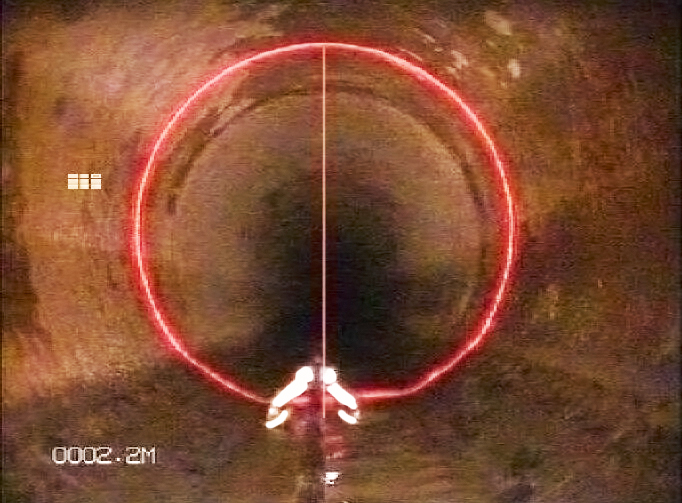 Benefits of Laser Profiling
In addition to our sophisticated cameras, mapping probes, transporters and other technology, Laser Profiling elevates our services with the most accurate and efficient mapping system of anomalies available. Laser Profiling gives you the opportunity to clearly see potential problems and gives you time to repair problem areas before they turn into catastrophes. As industry experts, we have the expertise and resources available to turn your next project into a seamless experience.
Automated Analysis
The Laser Profiler software uses machine vision which is used to find the video image of the laser profile (red laser line). The digital profile of the pipe is built from analysis of each frame of the inspection video. From here, the built-in functions display:
Ovality

– The Ovality function calculates the "q" (as per ASTM F 1216, the internationally recognized standard for CIPP rehabilitation)

Capacity

– The Capacity (X-sectional Area) function calculates the cross-sectional area for each profile and normalizes the results against the expected internal pipe area.

Delta

– The Delta calculation finds the maximum and minimum pipe radius for each profile.