RAVAN AIR Achieves Gold Shovel Certification (DPI Accreditation)
Taking another step to provide the best safety environment for our crews and infrastructure while demonstrating to our clients how seriously we take consistent improvement, RAVAN AIR is proud to have become Gold Shovel Certified in September of 2022. The Gold Shovel Standard®, recently acquired by Common Ground Alliance (CGA) on January 3, 2023, states its goal as being in pursuit of reducing damages on professional excavation sites by migrating the standard from minimum requirements to best practices and model programs.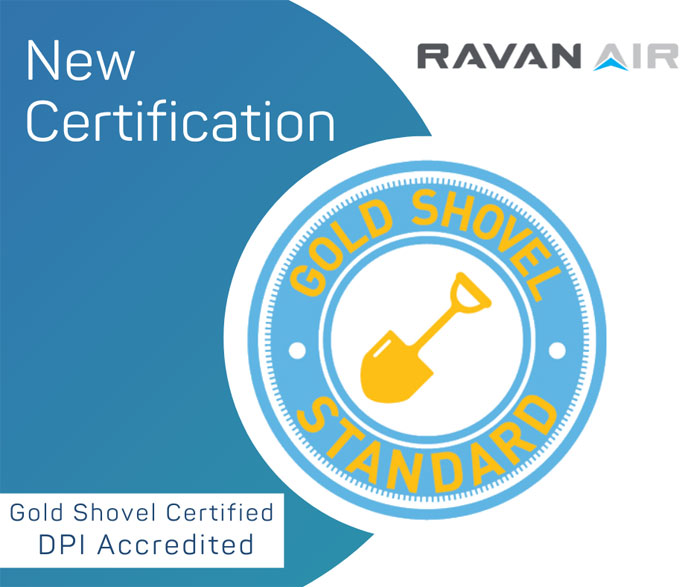 This standard provides two services that are filling a gap within the industry:
To act as a third-party to confirm the existing Safety Management System (SMS) to better protect buried assets during excavation
To create fair and transparent metrics for damage prevention similar to other safety metrics, "creating the foundation for a consolidated benchmarking and true peer review process"
Although the Gold Shovel Association (GSA) has been acquired by the Damage Prevention Institute (DPI), an arm of CGA, their goal is to "take the industry to the next level by focusing on measuring the outcomes of all participants in the damage prevention process, while also assessing the systemic impacts on the industry overall."
For RAVAN AIR, this is another significant step in the right direction and an exciting new certification to hold.
RAVAN AIR is based in Conneaut Lake, PA, and offers a full line of Underground and Aerial inspection services serving the oil and natural gas, landfill, utility and construction industries. RAVAN AIR is constantly looking at innovative ways to transform manual, time consuming tasks into an automated, time saving mission. RAVAN AIR was created by and for people in the natural gas industry.
Call 814-382-0368 or visit our website for inquiries or a quote today.