RA Completes Milestone Gas Distribution Project with Underground Inspection Services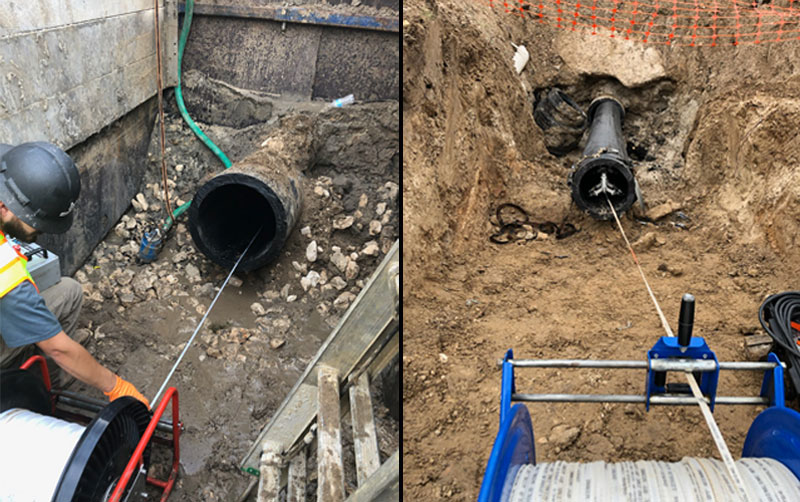 RAVAN AIR, alongside their sister company, Tru-Tek, recently completed a milestone project installing a natural gas line underneath Chartiers Creek in Washington, PA, contracted by NPL. This project took place in February and March of 2022.
RAVAN AIR performed pre-inspection services to accurately locate existing sewer pipes laying under the creek to provide data to engineers designing the new pipe installation. While Tru-Tek bored and placed the new natural gas pipeline, RAVAN AIR performed underground inspection services with a mapping probe to precisely record the location of the new bore and pipe during its construction replacement and provide data to engineers for the existing bridge. RAVAN AIR also performed the post-inspection to ensure the existing sewer pipes were not impacted during the installation of the new natural gas line and that the installation overall was completed to plan.
Since the existing sewer line was located underneath a creek surrounded by residential and commercial buildings and the new natural gas pipeline was to be placed there as well, traditional inspection and location services would have required the creek to be dug up and the road to be closed until the pipes were located. RAVAN AIR's underground probe services and advanced technology allowed them to locate the entry/exit points of the pipe and map the precise location with no impact on the surrounding environment. This also prevented excess fuel from being used in the equipment, reduced manpower and hours and reduced the potential for digging/trenching incidents. The new pipe was able to be designed more accurately and in less time due to the detailed location data of the sewer pipe that RAVAN AIR provided. The road also remained open, preventing unnecessary traffic and safety concerns during the project.
RAVAN AIR's underground inspection services have proven to be part of a catalyst for change within the industry. During the aforementioned project, RAVAN AIR was able to improve safety, save the involved parties significant costs, greatly improve efficiency, use several types of new technology and, most importantly, make a significant positive impact on preserving the environment. This summarizes the goal of the company in every project they do.
Ravan AIR is based in Conneaut Lake, PA, and offers a full line of Underground and Aerial inspection services serving the oil and natural gas, landfill, utility and construction industries. Ravan AIR is constantly looking at innovative ways to transform manual, time consuming tasks into an automated, time saving mission. Ravan AIR was created by and for people in the natural gas industry.
Call 814-382-0368 or visit our website for inquiries or a quote today.