Without Stopping the Trains, RAVAN AIR Maps Sewer Lines Under the Rail Line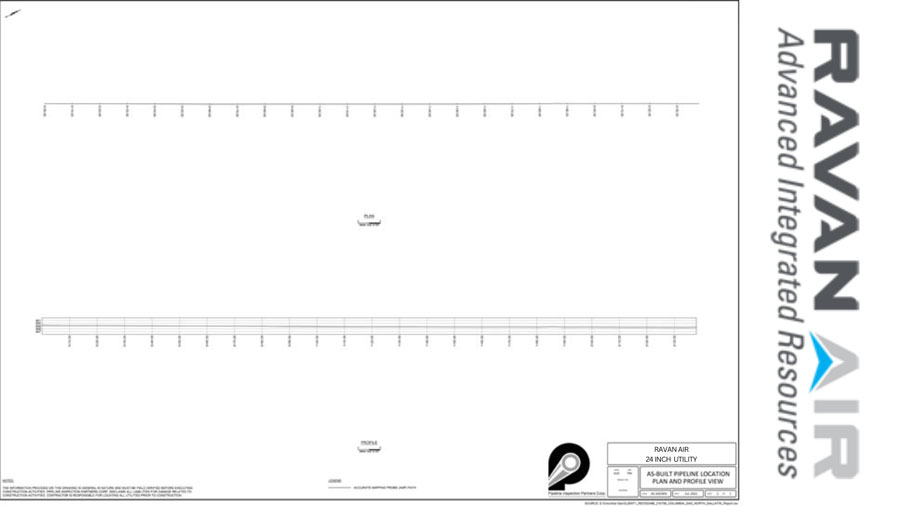 RAVAN AIR mapped a 24" steel sewer line that ran directly underneath a railroad track on North Gallatin Ave., Uniontown, PA, preventing it from being located by traditional means. Using the Accurate Mapping Probe (AMP), RAVAN AIR was able to locate the pipe via 2 manholes in order to pre-design and engineer a bore to go under it. The pipe ran approximately 300 feet underground horizontally.
The deliverable demonstrates the precise location and depth of the pipe in relation to the surface. Our Underground Utility Inspection services provide invaluable data to help prevent cross bores, utility damage and other catastrophic incidents.
Using the GraniteNet software system to view and synthesize information allows us to:
observe what is happening during the inspection in real-time,
record detailed video
take stills of damage, and
write or notate defects on the stills.
Locating underground utility pipelines can be difficult; mis-identifying pipeline locations can lead to costly pipe damage. We are industry leaders in locating oil and natural gas transmission pipelines and sewer pipelines.
Ravan AIR is based in Conneaut Lake, PA, and offers a full line of Underground and Aerial inspection services serving the oil and natural gas, landfill, utility and construction industries. Ravan AIR is constantly looking at innovative ways to transform manual, time consuming tasks into an automated, time saving mission. Ravan AIR was created by and for people in the natural gas industry.
Call 814-382-0368 or visit our website for inquiries or a quote today.